California PAL is member serving organization with PAL/SAL/YAL Chapters that extend from far north of the state with Etna and Siskiyou County all the way to the southern Mexican border with El Centro and Imperial County. We have Blythe on the eastern border with Arizona and the Avalon chapter on Catalina Island to the west.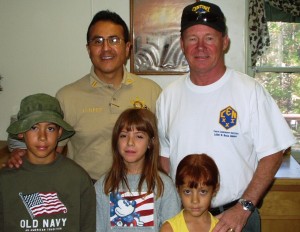 Each PAL/SAL/YAL chapter is autonomous; some have a large variety of programs while others focus on just a few programs but the common thing that all PAL chapters have is that we put together Cops and Kids in a safe and supervised environment to reduce juvenile delinquency and crime in our communities, counties and state.

California PAL chapters are as diverse as the youth who attend, mirroring California's multi-ethnic population. Since PAL chapters go where no other youth program goes, the majority of the kids we serve live in households whose collective annual gross income is less than $25,000 dollars. Because of these families limited financial resources, California PAL encourages and enables youth participation by removing those financial barriers by underwriting the cost associated with California PAL programs.

If you are a parent or guardian and would like to get your child involved with the PAL program, the first step would be to find out where the nearest PAL chapter is located. Just check out the PAL Locations menu and look for the chapter that is nearest to you.